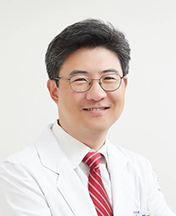 Dear members of the Korean Musculoskeletal Tumor Society,
First of all, I am honored to have the opportunity to serve as the president of KMSTS.
Since founded in 1990, KMSTS has grown into the important part of KOA. This would have been impossible without passion and commitment of the Advisory Committee members, and the challenge and dedication of the KMSTS members. KMSTS has endeavored to treat the musculoskeletal tumor patients and raise the quality of life of patients for the last 29 years. KMSTS has also dedicated to make an academic achievement and its dissemination.
In 2018, we have renamed to KMSTS and tried to ensure the internal stability and expand the scope. By hosting the upcoming 2023 International conference, we could raise our reputation one-step further. Additionally I will try to rationalize the current low insurance price, and to make concrete of our value by increase the relationship between members.
I would like to express my gratitude to the former president and all members of the Board of Directors who have tirelessly led KMSTS for the past 1 year.
I wish all members of KMST continued health and success in 2021.
Thank you.
President
Young-Soo Jeon
· Date of establishment: August 24, 1990
· Board of Directors
| Year | President | Secretary |
| --- | --- | --- |
| 1990 ~ 1995 | Han-Goo Lee | Dae-Kyung Bae |
| 1996 ~ 1997 | Han-Goo Lee | Soo-Yong Lee |
| 1997 ~ 1999 | Han-Goo Lee | Yong-Goo Kang |
| 2000 ~ 2001 | Han-Goo Lee | Dae-Kyung Bae |
| 2002 | Soo-Bong Han | Han-Soo Kim |
| 2003 | Dae-Kyung Bae | Han-Soo Kim |
| 2004 | Seung-Goo Lee | Han-Soo Kim |
| 2005 | Soo-Yong Lee | Kyu-Ho Shin |
| 2006 | Jae-Do Kim | Il-Hyung Park |
| 2007 | Jung-Soo Han | Duk-Sub Shin |
| 2008 | Sang-Hoon Lee | Dae-Geun Jeon |
| 2009 | Yong-Goo Kang | Won-Jong Park |
| 2010 | Kyu-Ho Shin | Sung-Taek Jung |
| 2011 | Il-Hyung Park | Jung-Ryul Kim |
| 2012 | Won-Jong Park | Yang-Gook Jung |
| 2013 | Dae-Geun Jeon | So-Hak Chung |
| 2014 | Duk-Sub Shin | Wan-Hyung Cho |
| 2015 | Yang-Gook Jung | Jung-Il Kim |
| 2016 | Sung-Taek Jung | Young-Soo Jeon |
| 2017 | Han-Soo Kim | Hyun-Guy Kang |
| 2018 | Jung Ryul Kim | Ilkyu Han |
| 2019 | So-Hak Chung | Won-Seok Song |
| 2020 | Wan-Hyung Cho | Sung-Wook Seo |
| 2021 | Young-Soo Jeon | Kap-Joong Kim |
· 2019 Member of the board of Directors
Jung Ryul Kim ,Jung-Il Kim, Han-Soo Kim, Won-Jong Park, Il-Hyung Park, , Duk-Sub Shin, Dae-Geun Jeon, Young-Soo Jeon, Sung-Taek Jung, Yang-Gook Jung, Wan-Hyung Cho
President: Young-Soo Jeon
Secretary: Kap-Joong Kim
Member of the Board of Directors
Jung Ryul Kim ,Jung-Il Kim, Han-Soo Kim, Won-Jong Park, Il-Hyung Park, , Duk-Sub Shin, Dae-Geun Jeon, Young-Soo Jeon, Sung-Taek Jung, Yang-Gook Jung, Wan-Hyung Cho
Editorial Committee
· Chairman: Wan-Hyung Cho
· Member: Jung-Ryul Kim, So-Hak Chung, , Hwan-Sung Cho
· Examiner: Sung-Wook Seo, Won-Seok Song, Young-Soo Jeon, Il-Kyu Han
Scientific Committee
· Chairman: Jung-Il Kim
· Member: Kap-Joong Kim,Seung-Hyun Kim, Min-WookJoo
Medical Insurance Committee
· Chairman: Hyun-Guy Kang
· Member: Seong-Han Shin, Wan-Lim Kim, Jong-Woong Park
Textbook Publication Committee
· Chairman: Han-Soo Kim
· Member: Chang-Bae Kong, Kap-Joong Kim, June-Hyuk Kim, Eun-Suk Choi
Public Education and Media Relations Committee
· Chairman: Young-Soo Jeon
· Member:
International Conference Preparation Committee
· Chairman: Il-Kyu Han
· Member: Chang-Bae Kong, June-Hyuk Kim, yong seong Kim